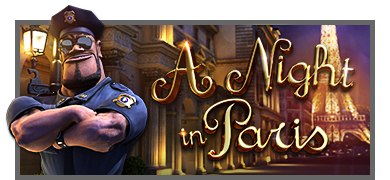 Chase a Thief or Dodge the Guard and Win Cash in A Night in Paris
Join a security guard as he chases a cunning thief or reverse roles and try to get away with a crime in A Night in Paris slots. This is one of my favorite 3D bonus slots. From the music and sound effects to the animated antics of thief and Jerome, this progressive jackpot game has a bit of everything.
How Do You Win the Jackpot?
The progressive jackpot is won by getting five of the security guard (Jerome) symbols across the reels and having the max bet in place. If that happens, the jackpot is yours. Even if you only get four of him, you'll win 1,250 coins. The thief, police dog, and couple are worth the next highest prizes. The thief pays up to 1,500 coins, while the dog comes in at 1,250 and the couple at 1,000 coins.
Other symbols in A Night in Paris slot include white doves, vases, the Eiffel Tower, sculptures, and croissants. The croissant is worth the least at 50 to 250 coins. The white doves pays 25 to 750. The other symbols fall in between those two ranges.
What Bonus Features Are Available?
There are a few bonus features in A Night in Paris slots. Chase Free Spins start when you get at least three police shield symbols. As the reels spin, watch Jerome and his guard dog chase the thief around the courtyard.
Play another bonus by lining up the thief, shield, and gendarme together in consecutive order on the first, second, or third pay line and win an instant cash prize. I was very happy with the 3,000 coins I won.
With three Napoleon paintings, you trigger the Caught in the Museum bonus. See what you can take before the Jerome catches you.
Are You Ready to Get Started?
To play A Night in Paris slots, choose your coin value (2 cents to $1), the number of coins you bet on each activated pay line, and the number of pay lines you wish to activate. With many casinos offering A Night in Paris for online play, you don't even have to wait for a download. Start spinning the reels and winning cash.
A Night in Paris slots is a lot of fun and not to be overlooked. In my first two spins, I'd already won $33.50 on a $3 total wager. Between the normal prizes and the bonus features, there is a lot of money awaiting lucky players.