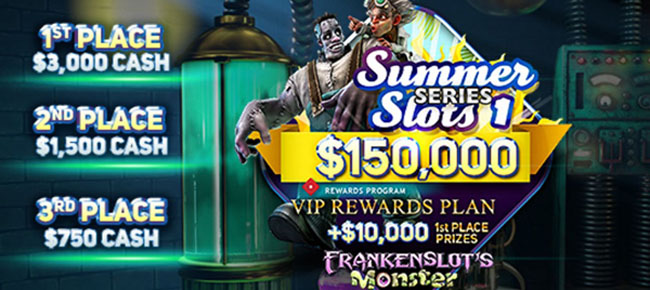 Every summer, Drake Casino plays host to the biggest online slot tournament for US players, The Summer Slot Series. This one of a kind Slot Tournament Series takes place all summer long, from June to August, featuring a different slot game each month for players to compete playing.
The Summer Slot Series features a guaranteed prize pool of $150,000 ($50,000 per tournament), with the winner of each tournament taking home $10,000 in cash! Considering the initial buy-in for the Summer Slot Series is only $5, there is a huge opportunity for any player big or small to take home the top prize.
Prize Breakdown
Each tournament in The Summer Slot Series will feature a $50,000 guaranteed prize pool, with prizes awarded as follows:
1. $10,000.00
2. $3,000.00
3. $1,000.00
4. $750.00
5. $500.00
6-11. $100.00
12-50. $50.00
51-60. $25.00
61-100. $10.00
101-6,410. $5.00
*Winners are determined based on the highest balance at the end of each tournament.
Tournament Schedule
Each Tournament apart of the Summer Slot Series begins on the 1st day of each summer month, from June to August. Players can enter the tournament at any time within the month, so if you miss the 1st that doesn't mean you can't enter and jump to the top of the leader board. Every player who enters has the same chance to win.