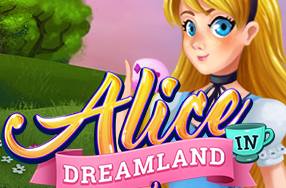 Alice in Dreamland Boasts Hundreds of Ways to Win
There are 243 ways to win in Alice in Dreamland slots. Kick things off by selecting your total bet. Options range from 40 cents to $240. Once that's set, spin the reels, win cash with winning combinations, or land the progressive jackpot and walk away with thousands of dollars.
You'll Find Many Recognizable Characters
In Alice in Dreamland slots, there are nine very recognizable symbols that offer rewards. The frog, turtle, duchess, and father are the symbols with the lowest values. The prizes for these symbols range from 5 to 60x to 10 to 80x. The mouse, queen, and king are slightly higher at 15 to 100x to 40 to 150x. The caterpillar and Cheshire Cat are worth the most at 50 to 200x or 10 to 300x.
You'll win the prize when you get at least three matching symbols on a pay line. The only exception to this is the Cheshire Cat who needs just two matching symbols in order to offer a prize.
It's a Game With Three Special Symbols
In Alice in Dreamland slots, the White Rabbit, Mad Hatter, and Alice provide special perks. Rabbit is a wild. When he helps form a winning combination with Alice, Cheshire Cat, the caterpillar, the king, the Mad Hatter, or the queen, the Spinning Wild Feature begins. Stop Alice from falling and get a multiplier of up to 3x. You'll find this bonus feature appears regularly and leads to some very rewarding prizes. The rabbit may also trigger the free spins bonus. With this bonus, you get 10, 20, or 30 free spins and a multiplier of 1x, 2x, or 3x.
Three or more Alice symbols triggers the Croquet, Drink Me, or Mushroom bonus features. In the Drink Me bonus, you decide if Alice should drink the liquid or eat the cake. Your choice leads to a cash prize. Keep that prize or choose again and hope your next pick is larger.
The Mushroom bonus requires you to choose from five mushrooms. When your pick makes Alice grow, you gain cash. When she stops growing, the game ends.
Finally, there's the Croquet bonus where you play croquet. When you get the ball through the cards, you win a cash. Keep playing until you miss your shot.
Give the reels a whirl. Thanks to the bonus features, substantial prizes, and the progressive jackpot, this game makes winning easy. Play Alice in Dreamland slots today and claim some cash.