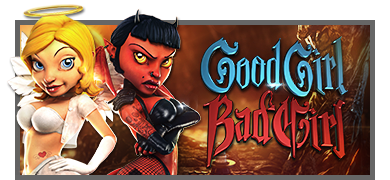 Are You Feeling Good or Bad? Pick Your Side When You Play Good Girl, Bad Girl
Before you play Good Girl, Bad Girl slots, you need to pick a side. You can be on the good girl's side or the bad girl's. Can't decide? For a little more money per spin, you can play both sides.
Good Girl, Bad Girl slots is a 3D game that may get you laughing. I find this is especially true when the bad girl loses to the good girl. Her tantrums are rather amusing.
Standard Payouts In Good Girl, Bad Girl
Payouts depend on the symbol. You always need at least three matching symbols on an active pay line in order to win. The 10/J/Q pay 25 to 225 coins. The K and A pay 25 to 450. The bad and good cats pay 50 to 900 coins. The third highest payouts are attributed to the good girl and bad girl with prizes of 100 to 1,800 coins.
There are two wild symbols in Good Girl, Bad Girl slots. The halo is the good side's wild, and the pitchfork is the wild for the bad side. The halo pays 150 to 2,500 coins, while the pitchfork is much higher at 150 to 5,000.
Any time you win a prize, you can click "Double Up" and attempt to double your winnings. To do so, a coin toss occurs. Pick the good side or bad side and cross your fingers that your prediction is correct. If it is, you win double the amount of your original prize. You can play again or collect your winnings.
The Click Me Bonus Feature
The Click Me Bonus requires you to pick the good side or bad side. It's triggered when the pitchfork and halo appear side by side. If you pick the good side, you're shown four gift boxes. Pick them and win cash.
To make it easy to win, the good girl lights two up, so you know there is a prize inside. If you're a little more daring, pick one of the unlit boxes and hope you win the larger amount of cash and dodge the game ending message. In the bad mode, the gift boxes that don't glow contain a guaranteed prize, while the glowing ones have the biggest prize or the game ending message.
Money Wheel Bonus
Get three Money Wheel symbols and you'll play the Money Wheel bonus game. In this, you spin the wheel and hope the spinner lands on one of the jackpots. If not, you'll win free spins or cash.
Bet as little as 2 cents per pay line in Good Girl, Bad Girl slots. There are 15 pay lines in all, and you're allowed to bet up to 5 credits on each pay line. As a result, a 10 cent bet with 5 credits and all 15 pay lines activated will cost you $7.50 or $15, depending on which side you choose.
Find Good Girl, Bad Girl at some of the best online casinos. Choose your side and see if you'll be a jackpot winner.