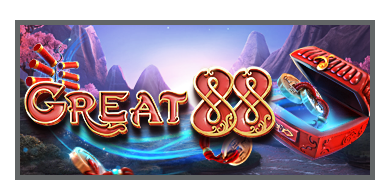 Great 88 Awards as Much as $100,000 in a Single Spin
Great 88 slots offers a top prize of one million coins. With the coin set to the maximum 10 cents, you can win $100,000 in a hurry in this colorful slot game. The game captures the excitement of the Chinese New Year. There are exploding firecrackers, colorful dragons, and much more helping you gain bundles of cash as you spin the reels.
Firecrackers, Dragons, and Jade Frogs Offer the Best Payouts
The jade frog is the fourth most important symbol in Great 88 slots. It pays up to 2,500 coins. Two dragons are next with maximum prizes of 3,000 and 5,000, respectively. The firecrackers are worth the most. If you get five of them on a pay line, you'll win a whopping 44,440 coins.
Even the lower tier prizes are worthwhile. There's a knot tassel that pays as much as 1,500. The 8 and 6 emblems pay 1,000 and 500. The green and red Chinese symbols pay 50 to 350. Then there are triple, double, and single bamboo sections that pay 25 to 125.
Lucky Boxes Bonus
Three lucky boxes symbols trigger one of a handful of bonus prizes in Great 88 slots. The boxes may reveal instant cash wins. Jade coins give you up to 25 free spins. There are high-paying symbols that help boost the value of a winning pay line. You might get up to two firecracker wilds that explode and increase your prize.
Finally, the boxes may send you to the bonus reel where you can win as much as 20 times your total bet or a trip to the Mega Million Wheel. If you get to spin the Mega Million Wheel, you can win 100, 750, or 6,000 times your total bet.
There's One More Way to Win Extra Cash
Great 88 slots has a Double Up feature that allows you to double your winnings during the normal game. When you have a winning pay line, click "Double Up" and choose whether you want to risk all of your win or half of it. Next, pick heads or tails. If you're correct, your prize increases by your wager.
Play Great 88 slots now. It's an engaging 3D slot game with winnings that are far more substantial than you'd expect of a video slot.