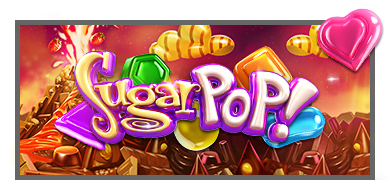 Exploding Candies Lead to Cash Prizes in Sugar Pop Slots
Exploding candies are the key to the biggest payouts in Sugar Pop slots. You'll love the unique feature in which finishing one of the boards leads you to a new level. Each level brings new candies that add bonus features that keep you winning. Here's what you should know about Sugar Pop.
The first thing you'll do in Sugar Pop slots is to set your coin value (2 cents to $1) and then the bet amount of 50 to 250 coins. Once you've decided, you'll click the green arrow to get the candies moving. Winning combinations explode and new candies fall into the empty spots. You'll often get multiple wins off one spin.
What the Candies Pay
There are seven main candies in Sugar Pop slots. The candies and their values are:
Pink – 20 per candy
Purple – 30 per candy
Orange – 40 per candy
Yellow – 50 per candy
Green – 60 per candy
Blue – 75 per candy
Red – 100 per candy
A winning combination is formed when you get a cluster of three or more candies. The candies can be horizontal or vertical in order to form a win. Diagonals do not count in this 3D slot.
If you get four of the same colored candies, you'll create a Super Color candy that offers a 2x multiplier that remains in play until your next spin. Five or more matching colored candies creates a Color Bomb. If the Color Bomb is part of a winning combination before you spin the reels again, every candy of that color explodes.
Winning a Level
With each winning combination, the meter on the right side fills up. When you reach the top, you'll level up. You get a new board that includes a new bonus candy.
Special Candies and Their Value
As you climb through the different levels of Sugar Pop slots, you'll encounter bonus candies. These candies all have special powers.
Candy Cane – Causes all candies in the same row and column to explode.
Caramel Chew – Travels around the reels and destroys candies it covers.
Chocolate – Creates a 3 by 3 chocolate square that explodes.
Cotton Candy – Creates a tornado that creates huge wins
Gumdrop – Sucks up neighboring symbols and makes them explode.
Jawbreaker – Rolls off the reels running over and destroying candies that get in its way.
Jelly Beans – Up to five jelly beans fly into other symbols and create bigger wins.
Lollipop – Makes all the candies on the screen move to a new place.
Peanut Butter Cup – Gives a respin after making all the symbols move to a new location.
White Chocolate – Shoots almonds at random candies to make them explode.
The Bonus Pattern
There's a bonus pattern on the left side of the screen. When you get winning combinations, the spots that correspond to a spot that helps form the bonus pattern becomes shaded. Once you finish the bonus pattern, you'll get up to 600 coins in extra cash. On the next spin, your new bonus pattern appears.
Sugar Pop slots is unique and very, very addicting. Don't be surprised to find yourself playing for hours as you move through the levels, pull in huge prizes, and try to create the patterns for more cash. With the 2 cent wager, you won't have to risk much when you find yourself still wanting to play.