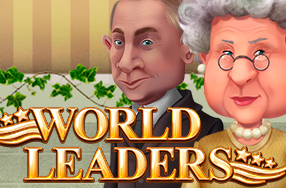 Gameplay Changes After 25 Spins in World Leaders Slots
Keep playing World Leaders slots. The longer you play, the more you experience. After 25 spins of the reels, you'll spin the globe and reveal a new wild symbol. Those wilds often lead to special features, such as expanding or walking wilds. At the heart of this game are cartoon versions of today's world leaders. You'll find cartoon symbols that resemble leaders like Queen Elizabeth, Putin, and Trump.
In this slot game, you have 18 pay lines and wagers that range from 36 cents to $252. There are three progressive jackpots and an interactive bonus game that has you calling world leaders and winning cash. Ready to learn more? Here you go.
Rewarding Payouts
Prizes in World Leaders start at 5 to 50 coins for the J. By the time you work your way up to the A, you're at as much as 100 coins. The world leaders pay more. For leaders, you'll get 20 to 200, 5 to 500, or 20 to 1,000, depending on which world leader is filling the pay line. It's the Queen Elizabeth leader that pays the most, but Putin and Trump are second.
Entertaining Bonus Features
At the beginning of the game, you spin the globe and find out what country's leader is in control. This determines the wild symbol for the game. If you have Trump, the wild symbol is the bald eagle and expands. Putin's wild symbol is a bear that gives you respins as it walks from one reel to the left until it leaves the board. Queen Elizabeth's choice is a crown wild that duplicates itself in other spaces. After 25 rounds, you'll spin the globe again.
Get three of the bonus symbols and enjoy an interactive bonus game. In the Find Your Ally bonus, you call other world leaders. Each one gives you cash. Keep picking phones and building up your winnings. The game ends when you've called one of the four leaders three times.
World Leaders has three progressive jackpots that are awarded randomly after a spin. The Cash Grab and Mystery jackpots are typically worth a few hundred or thousand. The Super Slots jackpot is bigger and typically is worth over $10,000.
You might find Putin, Trump, or Queen Elizabeth deciding what feature the wild symbol offers. No matter who is in charge, ample awards await you. Play World Leaders slots today.